Searching the Library Catalog
FINDING BOOKS - GETTING STARTED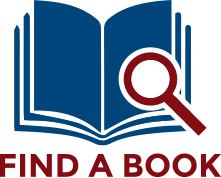 Click on the Library Catalog icon to the left to visit the CGTC Library Catalog.
You can also access the catalog from the CGTC Library Homepage. Look for "Find A Library Book" button in the lower left-hand side of the library website.
---
HOW TO SEARCH
From the main screen for the CGTC Library Catalog (shown left), you can:

(1) do a basic search with keywords;
(2) run a more advanced search; or
(3) browse by author, subject or title.


Try searching the catalog with these terms:

Paramedic Technology (shows all EMSP books)
BLS
Emergency Medical Services
Prehospital

Search results will include books available to check out from the library and ebooks available online!
Books are shelved by SUBJECT. When you find your book in the library - take a look at the other books on that shelf! You may find an additional resource for finishing that paper.
Below is small selection of books available for checkout. Be sure to check the Library Catalog for additional titles!
Patient Assessment Practice Scenarios
Call Number: RC86.9 .H42 2011
ISBN: 9780763778200
Publication Date: 2010-03-26
Anatomy and Physiology for Emergency Care
Call Number: QP36 .M42 2008
ISBN: 9780132342988
Publication Date: 2007-08-02
Paramedic Care
Call Number: RC86.7 .B62 2009
ISBN: 9780135137048
Publication Date: 2008-03-12
Volumes 1-5 available